Edward Jones Investments - Jason Sisam - Plymouth, MN
Categories
Personal Insurance Financial & Investment Services Financial Coaching
About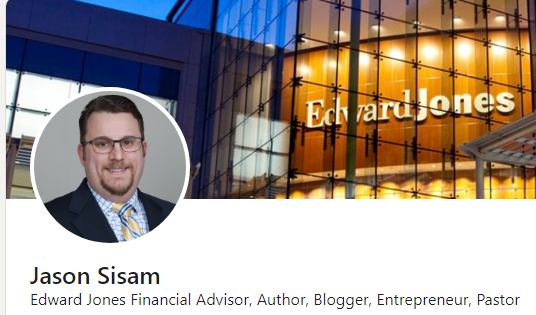 My life is about helping others. It's integral to who I am. I chose a career in financial services because I believe I can make a difference in the lives of those in my community. At Edward Jones, we strive to ensure clients feel heard and to know their unique story. We work hard to help clients understand the investment world in relatable terms.

Prior to Edward Jones, I served on staff as the operations pastor at two churches in the Twin Cities for nearly 20 years, preaching, coaching individuals and serving the various ministry teams. I am still an ordained minister with a desire to help churches and individuals find financial clarity.

When I'm not working, I put on my writer's hat to blog, podcast and author books. I have published seven books, including the book, "King Lyle and the Purple Dragon." I also volunteer my time serving as the president for the Minnesota Christian Writers Guild, and love to volunteer my time at our church.

My favorite thing to do is to be at home, spending time with my wife, Kari, and our two children. We married in 2012 in the beautiful state of Minnesota. We also have an adorable puppy named Molly. I love to read, write and go fishing as often as I can. I love the great outdoors, and you'll often find me doing yard work.

I help individuals, families, churches and businesses stay motivated with financial clarity with the tools they need to find their voice, discover their story and succeed in their family, ministry, business and life.

I'd love to connect with you and help you take your family, business and life to the next level in financial freedom. If you're interested, give me a call for a brief introduction and if you find value to continue our conversation, we can schedule an in-person or web conference call to take things to the next level.
---
If you want to check out my books online you can visit my personal website at... https://jasonsisam.com
Images
Connect with us in your preferred format!