The Ambassadors for Business online directory offers a place for you to connect with Christian business professionals, advertise your own business, and find trustworthy individuals and organizations to do business with.
We ask our members to agree to the following items when applying for membership:
- The Ambassador Commitment
- Ambassadors for Business Statement of Faith
- Membership Code of Conduct
We trust you'll find individuals and organizations in the online directory committed to living out their faith in the marketplace and creating mutually beneficial business relationships based on shared values. Search the online directory and join as a member to have your business included!
Randy Hoepner Graphic Design & Photography
6801 Park View Lane
Eden Prairie MN 55346
Membership Types(s):
Individual Listing
Contact(s):
Randy Hoepner -
About Us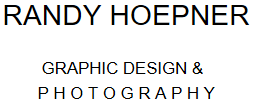 Experienced Graphic Design professional who excels in quality design solutions from concept to completion in a timely manner.
Behind the Lens:
Hi, I'm Randy Hoepner. I am an Eden Prairie, MN based Graphic Designer/Art Director & Photographer. I'm here to share my vision and style with you through my design and my photography.
I started out my career as a Graphic Designer, moved into an Art Director role and have enjoyed many years doing great work with other passionate creative people. I developed a great love for Photography along the way and especially enjoy integrating photography into great design to sell a product or an idea.

I am laid back outdoorsy guy that enjoys sports, travel, wining and dining my amazing wife, and hanging with my two teenagers. I carry my camera with me everywhere I go.
I would welcome you to contact me with any design or photography project that you have no matter how large or small.
Available for Design, Art Direction, Location, Event and Portrait Photography.