Randy Hoepner Graphic Design & Photography
Categories
Photographers Graphic Design Advertising/Promotions
About Us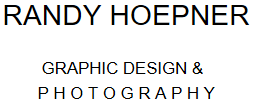 Experienced Graphic Design professional who excels in quality design solutions from concept to completion in a timely manner.
Behind the Lens:
Hi, I'm Randy Hoepner. I am an Eden Prairie, MN based Graphic Designer/Art Director & Photographer. I'm here to share my vision and style with you through my design and my photography.
I started out my career as a Graphic Designer, moved into an Art Director role and have enjoyed many years doing great work with other passionate creative people. I developed a great love for Photography along the way and especially enjoy integrating photography into great design to sell a product or an idea.

I am laid back outdoorsy guy that enjoys sports, travel, wining and dining my amazing wife, and hanging with my two teenagers. I carry my camera with me everywhere I go.
I would welcome you to contact me with any design or photography project that you have no matter how large or small.
Available for Design, Art Direction, Location, Event and Portrait Photography.
How do you want to connect with us?