The individuals and businesses in the Preferred Vendors Directory make an additional commitment to tithe back into Ambassadors for Business from business they receive via referrals from connections and relationships they build via AFB, and from business they receive directly via advertising or directory related searches. This commitment does not reduce their commitments to their church or other faith-based charitable organizations.
Please support Ambassadors for Business by searching the Preferred Vendor Directory first.
Sewing Seeds Embroidery, Uniforms and Apparel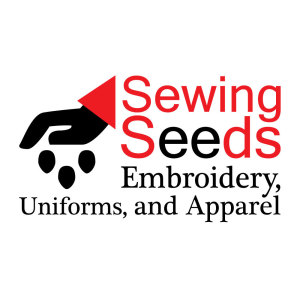 3607 - 50th Avenue North
Brooklyn Center MN 55429
Membership Types(s):
Business Listing
Contact(s):
Jim Johnson - Office Manager
About Us
Sew your Logo, Grow your Brand.
Sewing Seeds is a full service commercial embroidery shop conveniently located just outside downtown, Minneapolis. We have operational capacity ready to support your brand strategy with custom logo, and apparel needs. No order is too small, we do it all from chef wear to lab coats, supporting restaurants, hospitals and pharmacies as well as a multitude of businesses ranging from small to large, financial services to landscaping.
Letting us support you in the branding of your business will:

Whatever your Embroidery, Uniform and Apparel needs are, Sewing Seeds provides high quality, service with excellence, honor and integrity. "Sew your logo, Grow your Brand" with Sewing Seeds Embroidery, Uniforms and Apparel.
Please visit us on the web at SewingSeeds.biz, or simply give us a call at 763-533-8188.