1050 Bluff Pass North
Chaska MN 55318-9710
About

Lisa Anderson
Leader | Coach | Keynote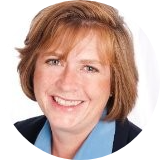 About:
Lisa Seaman Anderson is committed to growing Christ-Centered Leaders as a leadership coach and consultant. Her philosophy that leadership is a mindset enables her to unleash the leader that exists within each and every person. As a Coach, Lisa helps leaders examine the alignment between their practices and values by creating a safe and trusting relationship pushing clients through discomfort to achieve breakthroughs. As a 30-year leadership development professional, she designs fully customized, large-scale leadership programs that are introspective, action-oriented, and mirror real-world experiences. Lisa has a Bachelor's Degree in Business from University South Dakota and a Master's Degree in Human Resource Development & Training from Saint Cloud State University and has been a Certified Leadership Coach since 2004.
Lisa implements practical solutions that mirror real-life and incorporates relevant content in an interactive manner.
Active Keynote Presentations:
Resolving Conflicts Gods Way
Connect with us in your preferred format!