The Ambassadors for Business online directory offers a place for you to connect with Christian business professionals, advertise your own business, and find trustworthy individuals and organizations to do business with.
We ask our members to agree to the following items when applying for membership:
- The Ambassador Commitment
- Ambassadors for Business Statement of Faith
- Membership Code of Conduct
We trust you'll find individuals and organizations in the online directory committed to living out their faith in the marketplace and creating mutually beneficial business relationships based on shared values. Search the online directory and join as a member to have your business included!
700 Richmond Dr.
McKinney TX 75071
Membership Types(s):
Individual Listing
Contact(s):
Wil Norris - Sr. Manager - Business Partnerships
About Us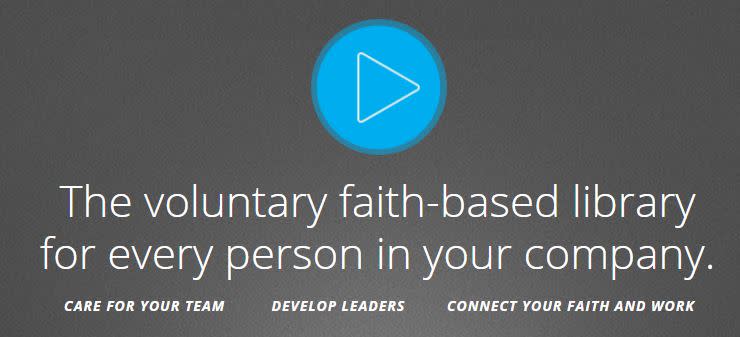 CARE FOR YOUR TEAM
Provide over 5,000 videos from more than 150 leading Christian publishers and ministries that offer solid, biblical teaching for every person in the family. Invaluable teaching covers marriage, parenting, finances, recovery and more from renowned and trusted teachers including Les & Leslie Parrott, Chip Ingram and Dave Ramsey.

DEVELOP LEADERS
Search through thousands of leadership training video sessions from dynamic teachers including Patrick Lencioni, John Maxwell, Henry Cloud, Marcus Buckingham, Bill Hybels and Andy Stanley. Select the videos that fit the needs of your team, then customize and send the training sessions so that you can interact around the topics that matter most to your business.

CONNECT YOUR FAITH AND WORK
Go behind the scenes with Cheryl Bachelder, CEO of Popeyes Chicken, David Green, CEO of Hobby Lobby Stores and other successful Christian business leaders and companies as they share their successes, their failures and the creative ways they give back to make a difference in their communities. You'll also have access to Christian Business Conferences including Work as Worship, New Canaan, Truth at Work, Convene and World Leaders Conference from the convenience of your phone or mobile device.